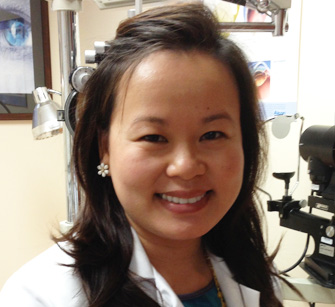 Lindy Hoang, O.D.
Lindy H. Hoang, O.D. is a Board Certified optometrist. She obtained her Doctor of Optometry degree from The New England College of Optometry (NECO) and has a Bachelor of Science in Biology from University of California, Riverside. She has completed several externships throughout the greater area of Boston, Massachusetts, including the Joslin Diabetes Center, Veterans Affairs Brockton, and various community health centers and private practices.
Dr. Hoang was born in Hue, Vietnam and raised in Westminster, California. With her multi-cultural background, Dr. Hoang speaks fluent English and Vietnamese as well as clinical Spanish.
After graduating from NECO, she moved back to California. She joined OC Eye Associates in September 2012 and has been collaborating with Dr. Kline to provide excellent eye care ever since.
Dr. Hoang strives to provide quality, comprehensive eye care and contact lens services for all her patients. She is very friendly and patient. In her spare time, Dr. Hoang enjoys watching movies, playing tennis, and most recently crossfitting.